Business Cards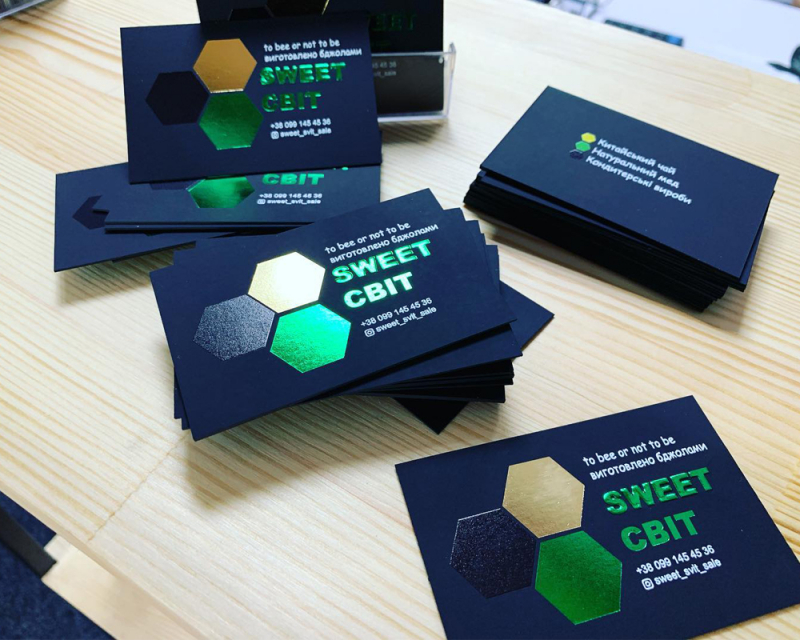 A business card - is an integral part of a business person's etiquette. A quality business card carries information about your personality just like a well-tailored suit, a modern gadget, or an expensive watch. Creating a business card that will reflect your status is our task. We can create a business card layout for you from scratch with the creative efforts of our designers, or provide high-quality printing of business cards from the layout you provide us with.
---
You can order business cards of any size, both standard and non-standard.
The standard size of a business card is 90x50 mm.
Euro size is 85x55 mm.
The US size of business cards is 88.9x50.8 mm.
The size of business cards in Japan is 91x55 mm.
---
Materials for making business cards in our printing house:
Coated paper is standard business card paper.
DNS is a high quality paper designed for digital printing.
Design cardboard is a thick paper, which can be with a different structure, gleam or coating.
---
There are more than 1000 types of designer cardboards available in the CHECKMATE printing house. To create unique business cards, we also use paper of our own production.
---
We can produce business cards within 2 hours to 7 working days. It all depends on the method of manufacturing and post-printing processing. We are always ready to meet our customers' demands and fulfil urgent orders as soon as possible..
The cost of an order always depends on the circulation.
For more information, as well as for an accurate calculation, please contact our consultant.